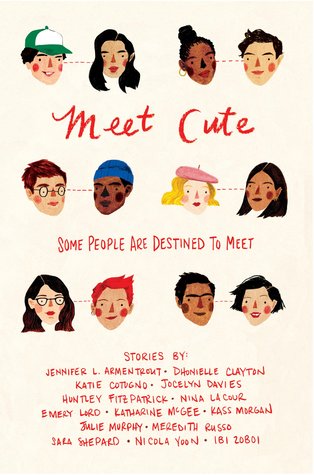 Meet Cute: Some People Are Destined To Meet
by Jennifer L. Armentrout & various others
Publish
er: HMH Books for Young Readers
Release Date: January 2nd, 2018
Source: Netgalley
Date Read: 12/16/17 to 12/18/17
320 pages
Whether or not you believe in fate, or luck, or love at first sight, every romance has to start somewhere. MEET CUTE is an anthology of original short stories featuring tales of "how they first met" from some of today's most popular YA authors.




Readers will experience Nina LaCour's beautifully written piece about two Bay Area girls meeting via a cranky customer service Tweet, Sara Shepard's glossy tale about a magazine intern and a young rock star, Nicola Yoon's imaginative take on break-ups and make-ups, Katie Cotugno's story of two teens hiding out from the police at a house party, and Huntley Fitzpatrick's charming love story that begins over iced teas at a diner. There's futuristic flirting from Kass Morgan and Katharine McGee, a riveting transgender heroine from Meredith Russo, a subway missed connection moment from Jocelyn Davies, and a girl determined to get out of her small town from Ibi Zoboi. Jennifer Armentrout writes a sweet story about finding love from a missing library book, Emery Lord has a heartwarming and funny tale of two girls stuck in an airport, Dhonielle Clayton takes a thoughtful, speculate approach to pre-destined love, and Julie Murphy dreams up a fun twist on reality dating show contestants.




This incredibly talented group of authors brings us a collection of stories that are at turns romantic and witty, epic and everyday, heartbreaking and real.
Goodreads | Amazon | B&N | Book Depository
I received this ARC in exchange for an honest review. Quotes taken from ARC may or may not be in the published edition.
As you may know, I recently read an anthology where the them was all love triangles, and I did not like it. Now, I'll be featuring an anthology of the complete opposite (or at least I think it's the complete opposite). Here's to hoping that it is so much better than the latter!


Siege Etiquette by Katie Cortungo
2/5 – Well this isn't a strong start. I guess I wasn't too into this because it was, in second person? And I wasn't too enticed with the whole, locking yourself in the bathroom to escape the police. Or Wolf, or even "me", the reader, as a character haha.
Print Shop by Nina LaCour
4/5 – I actually really liked this! Evie finds a job at a print shop, and though she wasn't expecting it, she was hired to create social media handles for the store. AND THEN SHE MEETS LAUREN THROUGH TWITTER DM (because of a dispute), and I could not love this more.
Hourglass by Ibi Zoboi
3/5 – I liked both the message and the story, but I guess I just didn't completely love this short story for some reason. Also, I guess I wish there was more? Like perhaps seeing Cherish at prom, looking amazing? But I suppose that's not the point. BUT STILL.
Click by Katharine McGee
5/5 – THIS WAS SO GOOD. I really liked how there's this app, that guarantees you'll find a match based on your social media. Though most of the story doesn't focus on this, but rather Alexa and her date, Raden, rushing around the city trying to find her lost phone. And I don't know what else to say about this other than the fact that I really liked where the story went, and the fact that it wasn't what I expected at all.
The Intern by Sara Shepard
3.5/5 – It's not that I didn't like this, I just wasn't as invested in Clara or Phineas. Basically, Clara is showing Phineas, an up-and-coming musician (rock? I think), around town, despite the fact that she's been having a rough time lately. But nevertheless it was still nicely written and a cute story, just not one I fully cared about.
Somewhere That's Green by Meredith Russo
4/5 – So in this story, we get to see the point of view of both Nia, who's transgender, and Lexie, who is secretly gay but is afraid to come out because of her parents. Plus, her parents kind of force their views on her, which is what prompted Lexie to speak out against Nia using the women's bathroom at school. I really liked the chemistry between Nia and Lexie (or I think they look cute together lol). I have mixed feelings about the mutual friend that set them up, and also the fact that no one really stood up for Nia (where was the rest of the school? Isn't this 2017?), but I guess that wasn't the point of the story.
The Way We Love Here by Dhonielle Clayton
4/5 – This short story takes place on an island named Meridian, where people have coils around their ring finger, and when they disappear it means you've found your true love. But you're not supposed to touch fingers with anyone else, which is of course, what Viola and Sebastian too. And when they do, they see possible futures. I enjoyed this immensely, though the only gripe I had was that setting itself didn't make much sense to me. But I guess that's part of the intrigue of it all.
Oomph by Emery Lord
5/5 – I really liked this one! Cassidy is traveling alone to NYC, for the first time, to get a taste of what it'll be like alone when she attends college. At the airport, she meets Johanna (code name Natasha Romanoff). I just loved the dialogue, and the fact that they pretend to be Marvel characters. And it's just so cute that I could melt.
The Dictionary of You and Me by Jennifer L. Armentrout
5/5 – This one was also unbelievably cute. Our main character, Moss, works at the library, and she's been calling this one day a few times a week to remind him to return an overdue library book. Which ends up being, a dictionary. I loved how unique and adorable this was. Again, made my heart melt.
The Unlikely Likelihood of Falling in Love by Jocelyn Davies
5/5 – THREE ADORABLE STORIES IN A ROW! And this one uses statistics. Despite the fact that no professor would ever approve of a project that involves counting the number of times you see a boy on the subway, I loved it. Plus, the fact that the story was divided up by Intro, Hypothesis, Research, Analysis, and Conclusion. Very cool.
259 Million Miles by Kass Morgan
3.5/5 – I think there was something missing from this story. Basically, Phillip and Blythe are competing for a spot to go to Mars. They need to both pass an evaluation, one where they have to be together alone for 24 hours. I think this was missing the great dialogue and banter from the previous stories. And the ending wasn't my favorite, to be honest.
Something Real by Julie Murphy
4/5 – This story was pretty predictable, but in a good way. June and Martha are competing for a date with a famous celebrity. June is crazy about him, that she started her own fan club, one that is now massively popular. Martha is only in it because she wants to find closure. I did like this very much, and was glad to see that my predictions turned out to be right.
Say Everything by Huntley Fitzpatrick
3.5/5 – I honestly, don't even remember this story even though I just read it last night. And reminded myself of it again this morning. Oh right, although I liked Sean and Emma, I didn't know enough of Emma's back story to understand how Sean's family was connected to her, and how it all went down.
The Department of Dead Love by Nicola Yoon
3/5 – I didn't like this one as much as I wanted to, only because I felt no chemistry between Thomas and Gabby. Thomas is in the department for Emotional Recovery because he wants to get a do-over with his ex-girlfriend (think of that movie, Eternal Sunshine of the Spotless Mind). Both of them just don't understand why there is suddenly just no feeling of love between them, and they want to figure out why. Although the concept is quite interesting (departments to deal with your love problems), I don't understand why Thomas suddenly became interested in Gabby. Kind of came out of nowhere, especially since he was so determined to see what was wrong with his previous relationship.
Final Thoughts: Overall, Meet Cute gets two thumbs up from me. At first, I was a bit hesitant because it wasn't such a strong start, plus I had just read an anthology that wasn't the best. BUT it all turned around by the middle, and I really started to enjoy the short stories. They were all just so cute, so heart-warming, and all so very well done. I definitely recommend this.