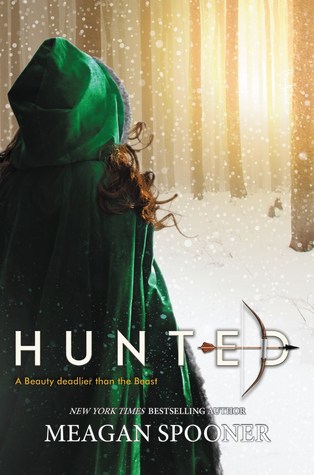 Hunted by Meagan Spooner
Publish
er: HarperCollins
Release Date: March, 14th 2017
Source: Edelweiss
Date Read: 3/5/17 to 3/9/17
352 pages
Beauty knows the Beast's forest in her bones—and in her blood. Though she grew up with the city's highest aristocrats, far from her father's old lodge, she knows that the forest holds secrets and that her father is the only hunter who's ever come close to discovering them.

So when her father loses his fortune and moves Yeva and her sisters back to the outskirts of town, Yeva is secretly relieved. Out in the wilderness, there's no pressure to make idle chatter with vapid baronessas…or to submit to marrying a wealthy gentleman. But Yeva's father's misfortune may have cost him his mind, and when he goes missing in the woods, Yeva sets her sights on one prey: the creature he'd been obsessively tracking just before his disappearance.

Deaf to her sisters' protests, Yeva hunts this strange Beast back into his own territory—a cursed valley, a ruined castle, and a world of creatures that Yeva's only heard about in fairy tales. A world that can bring her ruin or salvation. Who will survive: the Beauty, or the Beast?
I received this ARC in exchange for an honest review. Quotes taken from ARC may or may not be in the published edition.
To say I didn't like this would be a bit over the top. Since I've read These Broken Stars (which now that I think about it, also got 3 stars from me), I knew I would be picking up Hunted as well. As much as I love those retellings, I'm starting to now think maybe the writing style common to most fairytales just aren't my thing. Either it's that, or it's just this book. Honestly, not sure how I feel about Hunted at all.
Hunted mushes together the tale of Beauty and the Beast, and also I think The Firebird? Or whatever the name for that tale is, because I'm really not familiar with Russian Folklore at all. Nevertheless, the story tells of our main character Yeva (secretly named Beauty by her father and her family) hunting the Beast that supposedly killed her father. But after being captured herself, she's forced to train and hunt for him, for some unknown reason. As the story progresses, the two kind of get closer…kind of.
Buuuuut that leads to my main discussion, and why you all visited my blog today! *claps*
What is our stance on captor/captive romance? Or however it's called.
Just a little disclaimer, I personally didn't find this part of the book problematic, mainly because I knew it was based off Beauty and the Beast. However, I did think about this a lot while reading Hunted, and then I thought about what the opinions of the book community were on this topic. Mainly because I haven't seen anyone talk about it in regards to this book, and from previous book and Twitter discussions, this seems to apply to only WWII settings. And I think The Bone Season? Either way, I know there's been some discussion on this, but I wasn't sure what made something a problematic captor/captive romance.
Thoughts like the questions above kept popping up the more I read through Hunted. For example, Yeva's best friend warns her of not going back to the Beast, because he hurt her. And even though she reasons that it's because she stabbed him with a knife and anyone would retaliate after that, the conversation between them really stood out. Mainly because the friend doesn't get many lines in the book, and her saying this made me feel like the author was trying highlight this conversation.
DISCUSSION QUESTIONS:
What are your thoughts on this topic? What makes a romance like this problematic? Or is there nothing wrong with it at all?
How does this relate back to Beauty and the Beast? What makes that romance okay and others not?
To conclude, I'm not sure how I feel about this book. I didn't really feel the chemistry between Beauty and the Beast (literally), mainly because I kept constantly thinking about their romance. Plus, even though I did enjoy the plot, the writing itself made me a bit sleepy. I couldn't stop myself from skimming here and there, because I just wasn't engaged with the writing style. And because of that, I didn't end up caring too much about the rest of the family, Yeva's two sisters and their suitors (Also surprise, there is no real Gaston in this book!).