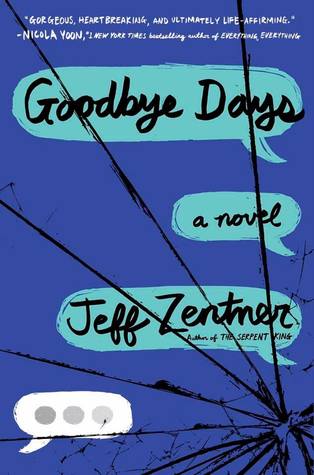 Goodbye Days by Jeff Zentner
Publish
er: Crown Books
Release Date: March 7th, 2017
Source: ALA Midwinter 2017
Date Read: 3/1/17 to 3/3/17
416 pages
Can a text message destroy your life?

Carver Briggs never thought a simple text would cause a fatal crash, killing his three best friends, Mars, Eli, and Blake. Now Carver can't stop blaming himself for the accident and even worse, there could be a criminal investigation into the deaths.

Then Blake's grandmother asks Carver to remember her grandson with a 'goodbye day' together. Carver has his misgivings, but he starts to help the families of his lost friends grieve with their own memorial days, along with Eli's bereaved girlfriend Jesmyn. But not everyone is willing to forgive. Carver's own despair and guilt threatens to pull him under into panic and anxiety as he faces punishment for his terrible mistake. Can the goodbye days really help?
I received this ARC in exchange for an honest review. Quotes taken from ARC may or may not be in the published edition.
Completely lived up to The Serpent King, just saying. Also I was scared and hesitant to start reading this. Why? Because I wasn't sure if I could handle the sadness that came along with this book. Well, I couldn't exactly handle it, but that's okay because THIS STORY IS STAYING IN MY HEART FOREVER.
But seriously, I would look up from reading this thinking that all my friends were dead. Fortunately, they were not. Never have I been so grateful.
Sorry I cannot resist
Where do I even start? From the fact that I have sticky notes marking my favorite quotes? I never pay attention to quotes. Never. And here is this book, just blowing my mind.
"For a time, we rummage through the drawers of our memories, pulling out the stories that are brightest and sharpest, like knives, and setting them in a row. Rekindling fires that had burned to embers. And then we are silent and still because merely listening to ourselves breath feels like a holy rite in Death's halls."
The metaphors. This is my ideal writing style. At times it's simple, and other times it just HITS YOU IN THE FEELS. Really, unlike anything I have read in a long while.
I'm not even sure what else I should be saying? Other than the fact that if you're going to be reading any one contemporary, pick up Goodbye Days. Also, be prepared to tear up throughout the novel. Because it's sad. I mean, imagine if your best friends were dead and everyone blamed you for their deaths. It's rough.
One thing that did rub me the wrong way a bit was [spoiler]
how Carver started going after his dead best friend's girlfriend.
However, despite saying that,
I believe it brought up an important issue, and that's that no one owns Jessamyn. She is allowed to move on at her own pace, because she doesn't belong to anyone, dead or alive. So even though it felt weird to me to have this relationship pop up all of a sudden, I came to realize that that was okay.
[end spoiler]
And that's my very vague review. Again, highly recommend reading this, as it definitely makes my top 2017 reads.