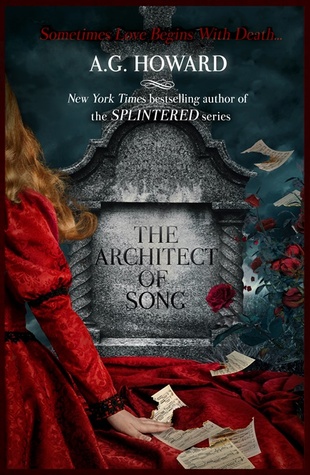 The Architect of Song by A. G. Howard
Haunted Hearts Legacy #1
Publish
er: Golden Orb Press
Release Date: August 15th, 2016
Source: Amazon
Date Read: 12/28/16 to 1/12/16
425 pages
A lady imprisoned by deafness, an architect imprisoned by his past, and a ghost imprisoned within the petals of a flower - intertwine in this love story that transcends life and death.

For most of her life, nineteen-year-old Juliet Emerline has subsisted – isolated by deafness – making hats in the solitude of her home. Now, she's at risk to lose her sanctuary to Lord Nicolas Thornton, a twenty-seven-year-old mysterious and eccentric architect with designs on her humble estate. When she secretly witnesses him raging beside a grave, Juliet investigates, finding the name "Hawk" on the headstone and an unusual flower at the base. The moment Juliet touches the petals, a young English nobleman appears in ghostly form, singing a song only her deaf ears can hear. The ghost remembers nothing of his identity or death, other than the one name that haunts his afterlife: Thornton.

To avenge her ghostly companion and save her estate, Juliet pushes aside her fear of society and travels to Lord Thornton's secluded holiday resort, posing as a hat maker in one of his boutiques. There, she finds herself questioning who to trust: the architect of flesh and bones who can relate to her through romantic gestures, heartfelt notes, and sensual touches … or the specter who serenades her with beautiful songs and ardent words, touching her mind and soul like no other man ever can. As sinister truths behind Lord Thornton's interest in her estate and his tie to Hawk come to light, Juliet is lured into a web of secrets. But it's too late for escape, and the tragic love taking seed in her heart will alter her silent world forever.

International and NYT bestselling author, A.G. Howard, brings her darkly magical and visual/visceral storytelling to Victorian England. The Architect of Song is the first installment in her lush and romantic Haunted Hearts Legacy series, a four book gothic saga following the generations of one family as - haunted by both literal and figurative ghosts - they search for self-acceptance, love, and happiness.
Hello friends. Long time no see.
I'm starting 2017 with a book I did not finish, a book I had immense feelings over. Angry feelings. I just wish this book turned out differently, but sadly it just didn't end up working out.
You know how much I love
The Mediator series
by Meg Cabot? And see how this isn't YA, but rather shelved as NA? I was 100% looking forward to a NA version of my favorite series of all time. But like all naive readers, I shouldn't expect such things. As someone who loves reading about ghosts and the paranormal, this book just rubbed me the wrong way.
The book immediately starts off with Juliet's mother passing away. We then learn that not only is Juliet heartbroken, but she also is being pressured to sell her estate. To this guy called Thornton. Juliet is also deaf, and relies on reading lips in order to fit in with society. She can't hear anything until she encounters a handsome ghost named Hawke that only she can see, when she is in contact with this magical flower. Once this flower wilts (think Beauty and the Beast here), then she'll lose Hawke forever.
It really is set up to be great. Sigh.
Let's be honest here, I was getting into this in the beginning. For someone who loved The Mediator, this is making me question whether I still do.
WARNING. Prepare yourself for some serious ranting. Which may or may not be grammatically correct. I do not care.
For one, there is a ghost. Two, only Juliet can see him. I was totally on board with it. Heck yeah I love ghosts and all things supernatural! But the romance took an overbearing turn, leading to a "I'm dead but you belong to me and I'm super jealous that you're getting closer to this other guy". DUDE, Hawk or whatever your name is, YOU ARE DEAD. DEAD. Unless by some miracle, by the end of this book, you live again, this is NOT okay! I really don't blame Juliet here, for not holding on to your flower at times because she wants some peace and quiet.
I get it, you're dead. This one woman means a lot to you because she can see you. But you (and really both of you) have to let it go. It won't happen. LET HER GO. That's true love okay?
Accurate gif of how I felt. Also, this is a great anime
I'm not sure why I have such strong feelings about it. I think it just hurt my head to see the main character tied down to someone who is dead. Someone who will be brooding in the background if she chooses another man over him. It just annoyed me to see how overprotected he was over her, even starting fights (with his somewhat ghostly powers) against others. I just don't think I'm happy with the idea of this ghost having a say in Juliet's love life. And this makes me wonder whether this happened in The Mediator Series. A part of me doubts it, but I won't know for sure until I reread the series.
I honestly have nothing else to say at the moment. This started out really strongly, until I became sick of the romance. I might change my mind about the book depending on whether I decide to pick it up again.
If I may ask, have you read this? Does it get
better
? How exactly does this "love" triangle play out, and did I decide too soon to DNF?